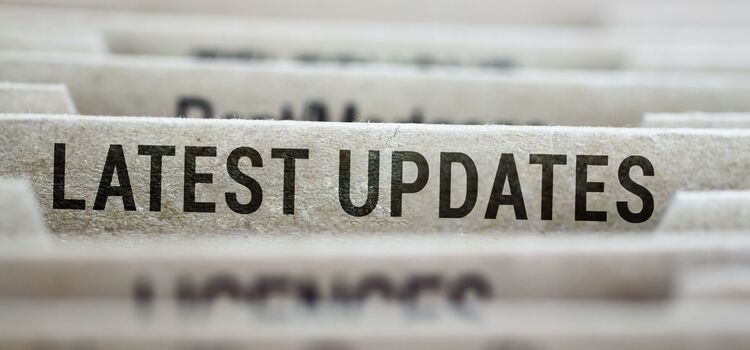 New Law Requires Poster on How to Report Workplace Violence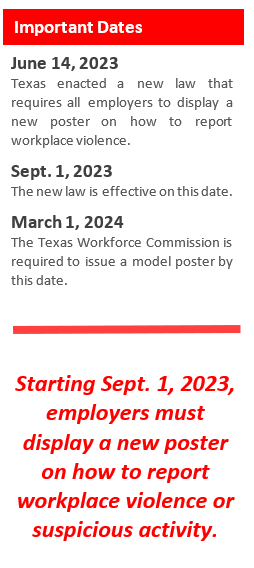 On June 14, 2023, Texas enacted a new law, House Bill (HB) 915, that requires employers to post a notice about how employees may report workplace violence or suspicious activity to the state. The new law, which also requires state agencies to establish a hotline for these reports and issue a model poster for employers to use, is effective Sept. 1, 2023.
New Poster Requirements
HB 915 requires every employer with one or more employees in Texas to post a notice that:
Includes the contact information for reporting instances of workplace violence or suspicious activity to the Texas Department of Public Safety (TDPS); and
Informs employees of the right to make a report to the TDPS anonymously.
This notice must be posted:
In a conspicuous place in the employer's place of business;
In sufficient locations to be convenient to all employees; and
In English and Spanish, as appropriate.
Model Poster Expected in March
The law requires the TDPS and Texas Workforce Commission to determine the form and content of the new poster and issue a model for employers to use by March 1, 2024. Because this is several months after the effective date, it is unclear whether and to what extent the agencies will enforce the poster requirement between Sept. 1, 20223, and the actual date on which they end up releasing a model. Employers should monitor the TWC's website for the model poster and become familiar with the new law while awaiting further guidance.
This Legal Update is not intended to be exhaustive nor should any discussion or opinions be construed as legal advice. Readers should contact legal counsel for legal advice. ©2023 Zywave, Inc. All rights reserved.