This article focuses on Federal Guidelines for securing cargo, but this is also a very good guide for non-DOT cargo securement.

Shifting cargo is one of the most common hazards in commercial transportation. Not only can shifts endanger anyone present in cargo areas, but the redistribution of weight while the vehicle is moving can lead to dangerous and unpredictable movements on the road. For this reason, it's important that your employees know the proper ways to secure cargo, and that your vehicles are properly equipped to transport materials.
To see the full list of FMCSA regulations and suggestions on securing cargo, see the securement handbook on the agency's website.
General FMCSA Criteria
FMCSA regulations on securing cargo require vehicles' securement systems to withstand forces from three types of deceleration (applied separately). Additionally, the agency requires that forces acting on securement devices don't exceed the following working load limits (applied separately).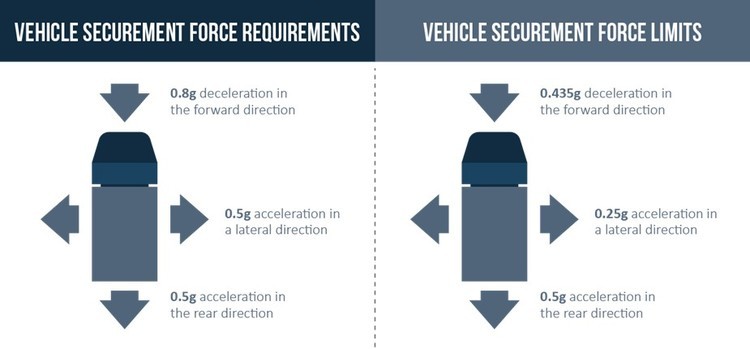 While standards don't require carriers or drivers to test that securement systems meet this criteria, any cargo needs to be firmly secured by structures of adequate strength, such as tiedowns. However, the FMCSA does allow carriers to use other systems to secure cargo—or to use more than one system in a vehicle—as long as cargo is secure and isn't in danger of shifting during transit.
Loading Cargo:
According to the FMCSA, cargo must meet one of three conditions before transit:
The cargo must be fully contained by structures of adequate strength.
The cargo must be secured by tiedowns in combination with blocking, bracing, friction mats, other cargo or void fillers.
The cargo must be immobilized by structures of adequate strength or a combination of structures, blocking and bracing.
Tiedowns:
Tiedowns are a combination of securing devices that are attached to an anchor point and either connect cargo to the vehicle or restrain it altogether. Here are the advised number of tiedowns to use for cargo of different sizes and weights:
One tiedown for articles 5 feet or less in length and 1,100 pounds or less
Two tiedowns for articles 5 feet or less in length and more than 1,100 pounds
Two tiedowns for articles greater than 5 feet but less than 10 feet in length, regardless of weight
Two tiedowns for articles greater than 10 feet and one additional tiedown for every 10 feet of length, or fraction thereof, beyond the first 10 feet
Additionally, drivers should be trained on the proper ways to use tiedowns:
Check tiedowns during pre-trip inspections to ensure they won't loosen, unfasten, open or release. Drivers should also check for any potential abrasion hazards that could cut or compromise tiedowns.
Have drivers secure tiedowns inboard of the rub rails whenever practical.
Have drivers pull over to the side of the road if they suspect tiedowns have failed during transit.
Generally, load cargo so that it's at the center, or forward of the trailer to ensure even weight distribution. Do not put heaviest cargo on the rear of the trailer as this will destabilize the trailer.
Inspect your tie-down straps and tie-down points regularly to identify:
Fraying and wear or knots
Heat or UV damage (melted or color faded areas)
Metal mechanisms are in good operation and not bent or damaged in any way
Make sure that tie-down points are usable, working properly and properly secured
These devices should be included in your pre- and post-trip inspection for DOT-CDL vehicles. For non-DOT vehicles, these should be included in your regular inspection routine. These inspections should be documented and saved for your records.
If you would like a pdf document branded to your organization, email our Stewardship Director, Elizabeth Carter, at elizabeth [dot] carter [at] ncwriskmanagement [dot] com.
Source: Zywave - Commercial Driving Safety Guide and Jim Smith, Risk Manager.