4 Keys to a Solid Safety Audit and Inspection Program

When was the last time you took a long, honest look at your environment, health, and safety program? If it has been a while, or you can't remember—or if you've never conducted a safety inspection or audit before—it's time to get to work. By evaluating your facilities, people, and processes, you'll make your workplace a whole lot safer and more efficient.
You will also minimize your regulatory and legal risks. Audits and inspections ensure you stay 10 steps ahead of the Occupational Health and Safety Administration, the Environmental Protection Agency, and the other federal and state authorities just waiting to hit you with citations and penalties.
If you find the prospect of audits and inspections overwhelming, you are not alone. After all, there's a reason organizations don't conduct them as often as they should. So, let's make this as simple and painless as possible by breaking audits and inspections down into manageable pieces. These are the 4 basic components that, when combined, form a comprehensive assessment of your EHS program.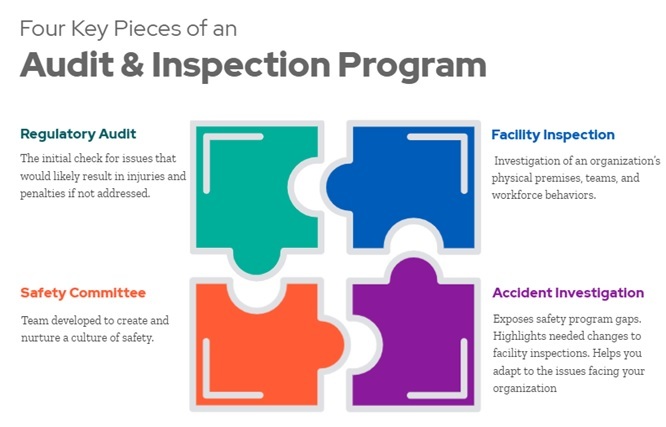 Part 1: The Regulatory Audit
What it covers:
OSHA compliance
EPA compliance
Examples of questions an auditor should ask:
Are all employees trained properly?
What are your safety policies, and are employees actually following them?
Is any written compliance program in place?
Have you conducted a hazard assessment?
Part 2: The Facility Inspection
What it covers:
department-specific regulatory compliance
department-specific safety hazards
equipment and machinery
Examples of questions an auditor should ask:
Are your ladders in good condition?
How about your forklifts?
Have you tested your alarms recently?
Where are your eyewash stations?
How about your fire extinguishers?
Part 3: Accident Investigation
What it covers:
Workplace accidents
Employee injuries
Preventive measures
Corrective measures
Examples of questions an auditor should ask:
How many safety accidents have occurred recently?
What is the nature of those accidents?
Why are accidents happening? What are the root causes?
Part 4: Safety Committee Meetings
What they cover:
Overall EHS program function, effectiveness and efficiency
Safety team roles and responsibilities
Current priorities and improvements to make
Timetables for implementing changes
Examples of questions safety committees should consider:
Are all employees working as safely and efficiently as possible?
Are all members of the organization, including leadership, engaged and represented in EHS program decisions?
What safety and regulatory risks does the organization currently face?
What aspects of the organization's EHS program are functioning as intended?
What needs to be improved?
What is the ROI of an optimized safety program?
For more details on each of the Four Key Pieces, please visit the below website.
Source: 4 Keys to a Solid Safety Audit and Inspection Program. (n.d.). KPA. Retrieved September 3, 2020, from https://www.kpa.io/blog/4-keys-to-a-solid-safety-audit-and-inspection-program